Published 9 May 2020 - Last update 28 January 2023
Context

This is the incomplete history of electronic music in the San Francisco Bay Area. This area comprises all the counties that border the San Francisco Bay. They include the counties of Alameda, Contra Costa, Marin, Napa, San Mateo, Santa Clara, Solano, Sonoma and San Francisco. Some counties not bordering the bay are sometimes included like San Benito, San Joaquin and Santa Cruz.
The Bay area has seen the creation of Buchla, Sequential and E-Mu synthesizers to name the most famous.
It is organized as a timeline
Contributors
The following people have contributed to this music history:
Many thanks for making this more informative and accurate. All errors are mine.
To know more
The Timeline
1946
Jack Mullin brings back to San Francisco from Bad Nauheim in Germany some AEG Magnetophon high fidelity tape recorders. He will then work to improve the design of these first tape recorders. He produced a modified version that he demonstrated to the Institue of Radio Engineers in San Francisco on May 16.
1948
Ampex based in San Carlos following the designs of Jack Mullin taper recorder produce the Ampex Model 200 which will be popularized with the help of Bing Crosby
1954
Robert Erikson teaches composition classes to Pauline Oliveros till 1960 at the San Francisco Conservatory. He brings together Pauline Oliveros, Morton Subotnick, Terry Riley, Ramon Senders and Philip Winsor who will be instrumental in The San Francisco Tape Music Center (SFTMC)
1957
Henry Jacobs and Jordan Belson organize Vortex at the Morrison Planetarium in San Francisco. Magnetic tape compositions are played on a surround sound space with 38 speakers with visual projections. It is sponsored by KPFA and the California Academy of Sciences.
1961
Ramon Sender has a small music studio in the attic of the San Francisco Conservatory of Music, in October
Ramon Sender and Pauline Oliveros begin a series of concerts at the San Francisco Conservatory of Music. They are called "Sonics" and the first one is on December 18.
1962
Composers Ramon Sender, Morton Subotnick and Pauline Oliveros found The San Francisco Tape Music Center (SFTMC) during the summer. It is located at 1537 Jones Street in San Francisco, and after the building burns down, relocated in 1963 to 321 Divisadero in San Francisco. It is sharing the building with Dancer's Workshop and KPFA radio.
1963
1964
Pauline Oliveros organizes as part of the SFTMC the festival "Tudorfest" celebrating the work of Pianist David Tudor. Michael Callahan, John Chowning, Stuart Dempster, Warner Jepson, Douglas Leedy, Robert Mackler, Pauline Oliveros, Dwight Peltzer, Ann Riley, Loren Rush, Ramon Sender, Stanley Shaff, Linn Subotnick, Morton Subotnick, Ian Underwood, and Jack van der Wyck are preforming on compositions by Pauline Oliveros, George Brecht, Toshi Ichiyanagi, Alvin Lucier, and John Cage.
1965
With $500 funding from the Rockefeller Foundation to the San Francisco Tape Music Center (SFTMC), obtained by Morton Subotnick, and with musical design direction from Morton, Don Buchla creates the Buchla Modular Electronic Music System (Series 100).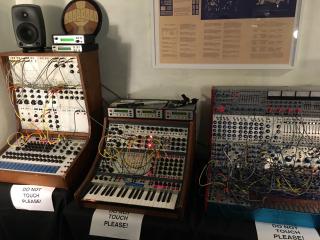 1966
The Buchla 100 Series begins selling commercially
The SFMTC moves to Mills College in Oakland.
Stewart Brand and Ramon Sender organize the Trips Festival, January 21-23, at Longshoremen's Hall (400 North Point) in San Francisco.
1967
John Chowning creates the first digital FM synthesis algorithm at Stanford University in Palo Alto. He spends seven years perfecting and expanding it. In 1974 Stanford licenses the technology to Yamaha Corporation.
Recorded in 1966 and 1967 on a Buchla 100, Morton Subotnick releases in July the album "Silver Apples of the Moon".
Stan Shaff and Doug McEachern open the first Audium Theater in San Francisco. The theater is specially conceived for listening music in space. It has many speakers all around the listeners.
1968
Suzanne Ciani studies for a master's degree in composition at University of California, Berkeley. She meets Don Buchla and spends some times at the SFTMC.
1969
Max Matthews, and John Chowning give a class on music at the Stanford Artificial Laboratory. Max Matthews is known to have written, in 1957, MUSIC the first widely used program for sound generation.
Allen Strange becomes Professor of Music at San Jose Stat University until 2002. He will release the book "Electronic Music: Systems, Techniques, and Controls" in 1972 and "Programming and Meta-Programming the Electro-Organism" in 1974. Additionally he will write the operations manual for the Buchla Music easel.
1970
Don Buchla creates the Buchla 200 Series
Suzanne Ciani takes a job at Buchla & Associates to work on assembling the 200 Series and to later purchase one. There, she has access to Don's studio. She receives a grant from the Rockefeller Foundation via the SFTMC and composes extensively at the center. She releases her debut record "Voices of the Packaged Souls" which was finalized at the local radio station KPFA. On this record, she uses tape methods to organize sounds recorded at Stanford, Buchla's and in her garage.
Allen Strange becomes professor of music at San Jose State University and publishes the book Electronic Music: Systems, Techniques, and Controls
1971
Dave Rossum, Steve Gabriel and Jim Ketcham found E-mu Systems in Santa Cruz. It will be acquired in 1993 by Creative Labs and will cease operations in 2011
1972
Nolan Bushnell and Ted Dabney found Atari in Sunnyvale and releases a game created by Allan Alcorn under Nolan's direction: Pong. The game would generate sounds after Alcorn found out that the sync generator could generate different tones. The company will operate till 1984.
Allen Strange releases the book "Electronic Music: Systems, Techniques, and Controls", a classic to teach and learn electronic music. It will be rereleased in 2023 via a kickstarter
1973
E-Mu Systems develops a digitally scanned polyphonic keyboard that will be licensed to Oberheim Electronics and Sequential Circuits for the Prophet-5.
1974
Dave Smith founds Sequential Circuits in San Francisco. The first product is an analog sequencer for use with Moog and ARP synthesizers.
1975
1976
Ray Dolby moves Dolby Laboratories that he founded in 1965 in London, United Kingdom to San Francisco.
1977
Jim Horton, John Bischoff, and Tim Perkis found in Berkeley, The League of Automatic Music Composers, the first computer networking band.
Dennis Saputelli founds Salamander Music Systems in San Francisco, which sells modular based synthesizers until 1985.
Atari releases Atari Video Music, the earliest commercial electronic music visualizer.
1978
The Prophet-5 is for the first time demonstrated at NAMM in Los Angeles in January. The first units are shipped later in that year.
1979
Roger Linn and Alex Moffett found Linn Moffett Electronics (renamed Linn Electronics) in Los Altos, California.
Keith McMillen founds Zeta Music and develops a prototype electric violin for Laurie Anderson
Doug Curtis founds Curtis Electromusic in San Jose. It will operate till 1988. The first product, the CEM3310, is used in Oberheim and Moog instruments.
1980
The Serge factory moves from Los Angeles to San Francisco in a three-story Victorian House on Haight Street. The Serge synthesizer was developed by Serge Tcherepnin, Rich Gold and Randy Cohen at CalArts in 1972, the first 20 "Tcherepnins" were built in 1973.
Roger Linn releases the world's first drum machine to use digital samples the LM-1 drum computer.
1981
Roland founder Ikutaro Kakehashi contacts Dave Smith to create a standard to synchronize instruments. Based on Roland Digital Control Bus (DCB), Dave Smith and Chet Wood of Sequential Circuits publish a specification called "Universal Synthesizer Interface" at the Audio Engineering Society conference in New York City in October. After many contribution by representatives of Roland, Yamaha, Korg, Kawai, the specification would become the Musical Instrument Digital Interface (MIDI) Standard. In 1983 a Midi connection between a Prophet 600 and Roland JP-6 is demonstrated.
1982
Robert Rich releases his first album on cassette, Sunyata. During this time Robert Rich gives sleep concerts in the San Francisco Bay area.
1985
Dave Oppenheim founds Opcode Systems in Palo Alto to produce MIDI sequencing software.
1986
Opcode Systems releases the first commercially available computer sequencer program, MIDIMAC. Eventually the program was expanded to include digital audio and was renamed Vision.
1987
Sequential Circuits goes out of business.
Max Matthews becomes Professor of Music (Research) at Stanford University.
1988
1989
Julius O. Smith III files a patent on Digital signal processing using waveguide networks, or Digital waveguide synthesis, for Stanford University in September.
1990
Opcode Systems releases the first commercially available version of MAX, licensed from IRCAM in Paris, France. Released to Cycling '74 in 1999.
1996
David Zicarelli, former Opcode employee, creates MSP for MAX at Cycling '74 (San Francisco).
1998
Opcode Systems is absorbed into Gibson Music Corp.
Doug Lynner, modular synthesizer artist and Synapse Magazine editor/publisher, relocates to the Bay Area and relaunches his performance career there in 2013. He currently performs and teaches internationally.
1999
2002
Dave Smith founds Dave Smith Instruments in San Francisco.
Steve Taormina establishes Robotspeak, a synthesizer shop, in Lower Haight in San Francisco
Gur Milstein founds Tiptop Audio in Sunnyvale and releases the Z5000 Multi Effects Eurorack module. The company will later relocate to Thailand.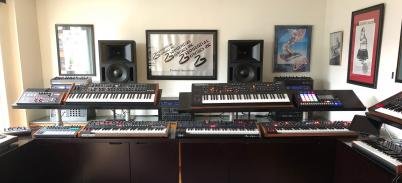 2010
The Dead Presidents Society, a group of friends, meets every Thursday morning at a coffee house in Berkeley. The names comes from members that were presidents of companies that died. Members: Don Buchla, Ingrid Linn, Roger Linn, Keith McMillen, Tom Oberheim, David Wessel, Max Mathews, John Chowning, Dave Smith, Jaron Lanier.
2011
Tim Thompson creates the Space Palette, a Kinect-based musical instrument.
Dimitri Ponce starts The Church of Thee Super Serge at Robotspeak. It starts as a workshop where students build every month a modular synthesizer Serge panel, and evolves into a free monthly concert done by local artists.
2013
Ilya Rosenberg and Aaron Zarraga found Sensel in Sunnyvale and release the Morph in 2017 a touch pressure sensitive sensor to be used as a synthesizer controller.
Lance Hill opens the Vintage Synthesizer Museum in Emeryville. It is a recording studio with a many old analogue synthesizers. The Museum will relocate to Los Angeles in 2021
2015
Yamaha returns the Sequential Circuits brands to Dave Smith in January
The Prophet-6 is created in January
Dave Rossum founds Rossum Electro-Music LLC which mainly makes modules for the Eurorack format.
2016
Danny Kim starts in March Binary Society Open Night in San Jose, a monthly event, until Binary Society 09 in October 2017. Many local artists will perform at this event, mainly on modular synthesizer.
r beny releases "full blossom of the evening"
2017
Tenkai Kariya founds Zetaohm in San Francisco and releases the FLXS1, a Eurorack Module Voltage Sequencer, via a Kickstarter.
Jeremy Black starts Resident Electronic Monthly in October. It is a monthly open mic for electronic music performers, held on the second Tuesday of the Month at the Laundry in San Francisco.
2018
Kevin Friedrichsen and Bill Wiatroski start Resonant Frequencies in January. It is a monthly open mic for electronic music performers, held on the first Sunday of the month in Oakland at Soundwave studios.
ose | ओस releases "just a feeling"
2019
Richard Hogden and Korey Luna start Piqued in April. It is a monthly concert with Q&A where 2 electronic music artists perform. It is held on the third Wednesday of the month in San Francisco.
2020
Brian B. James and Betsy de la Garza open Mission Synths shop in San Francisco in December
2021
Electric.Kitchen, Malarki, KZZL, musicalfungus, Alphastare, Franck Martin, DirtyBill, Kit Yound perform in September at the Gray Area Theater as part of the LeftCoastLights Eclectic Trips Festival
2022
Resonant Frequencies is now an event every 2 month at the Balboa Theatre in San Francisco
Resident Electronic Music is now hosted at Noisebridge