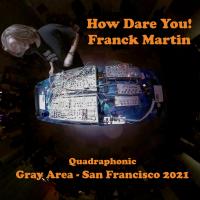 How Dare You! Live at Gray Area: Recorded in quadraphonic during LeftCoastLights Eclectic Festival at the Gray Area in San Francisco on 9th September 2021.
It expresses the general inaction while we are facing a climate disaster.
I wanted to use the speech of Greta Thunberg at the UN Climate Action Summit on Sep 23, 2019, but I was not able to reach for clearance. So I wrote my own text. My wife, Jasmine Ali, read it. It is then loaded in MakeNoise Morphagene (this is a kind of digital tape). I play it unaltered at the beginning of the piece and then I splice it, alter it, and fragments are played randomly until the end of the piece when it all come whole again.
Release and Links
It is in quadraphonic, processed to be a Dolby Atmos release and bounced to binaural for Bandcamp and other Stereo only services.

In the Press:
"The title How Dare You! is taken from the text of the famous Greta Thunberg speech at the United Nations, and the whole album uses snippets of the speech, read by Martin's wife, Jasmine Ali. It's an intensely moody sonic journey, Martin's powerful personal and artistic statement against climate inaction and disaster, that fits in with his work overall which often addresses social issues." - Marke B. - 48Hills

Lyrics:
Text read by Jasmine Ali:
Climate change is real
They told us that
Eons ago
Weird events are upon us
Cyclones, heat waves, snow storms
We had to do something
But the economy
Oil and coal subsidies
I saw it ,
Keeping industries from
Dying
Instead of investing
In the future
How dare you?
Sea level rises
We will build levies
We will build castles
And it will all eventually crumble
Why aren't we investing in the future
How dare we?
20 years from now
That was a long time
Youth spent
We are here now
Kids will be there too
Each generation protecting the past
Not building the future
But tonight we dance!
How dare we?
Instruments:
Moog Subharmonicon
Moog Spectravox
Moog DFAM
Buchla 208c
Eurorack: Shakmat, Makenoise, Mutable Instruments, Pittsburgh, New Systems Instruments, Intellijel, Sputnik, Verbos, Hexinverter